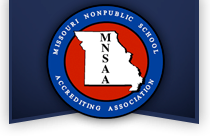 Missouri Nonpublic School Accrediting Association

The organization began with a desire to provide a recognized accreditation agency for Catholic and Lutheran schools in Missouri. Representatives from these schools joined representatives of other states to form the National Federation of Nonpublic School State Accrediting Association. The national organization was incorporated in the state of Minnesota in November, 1984. The Missouri Chapter was incorporated in the State of Missouri as a not-for-profit organization under Section 501(c) 3 of the Internal Revenue Code on January 18, 1985. In 1999, the Islamic schools in the state joined the Association. In 2002, the Board shortened the name of the organization to the Missouri Nonpublic School Accrediting Association. Beginning in 2011 independent Christian schools continued the expansion of the organization.
The national organization gives state chapters both the responsibility and the flexibility to establish their own charters, by-laws, and admission requirements, as well as standards and indicators for accreditation. The Missouri Chapter meets the criteria established by the National Association and works closely with the sponsoring agencies of schools which seek accreditation. A sponsoring agency is an educational organization which represents a group of at least three nonpublic schools.
The National Federation of Nonpublic School State Accrediting Associations is recognized by the United States Department of Education. (Confirmation specified 1/12/88 in written communication between Ramon Ruiz, Deputy Director of the Division of Educational Support, and Charles O'Malley, Executive Assistant for Private Education, United States Department of Education.) The Missouri State Board of Education, the Missouri Department of Elementary and Secondary Education, and the Missouri State High School Activities Association recognize the Missouri Chapter of the National Federation. The state accepts for teacher certification the classroom experience that is earned in nonpublic schools that are accredited by the MNSAA. Like other recognized accrediting agencies, the Missouri Chapter gives assurance that its member schools have met certain standards that are essential for quality education.


Click Here to learn more about Missouri Nonpublic School Accrediting Association